Editorial Disclaimer:

The Author of the Article is not Affiliated with the Tea Party – Nor wants to be Affiliated with it. The elite must be happy to know that their divide and conquer campaign is still working  with some individuals.  The article remains because we believe it is in the interest of the American people to know what is really happening in Spain.  We admire the author for his great reporting, and hope that soon he will go beyond the construct of the divide and conquer campaign that has served the elite so well for so many years to keep us enslaved.
The American Tea Party is composed of individuals from all walks of life and all party affiliations. Tea Party is just a name, words, to identify this latest American Revolution.  We remain unattached to any and all organizations and loyal only to freedom. We will not divide, nor be conquered. The truth will be reported.
Spanish police fire at peaceful protesters in Barcelona
by Jérôme E. Roos on May 27, 2011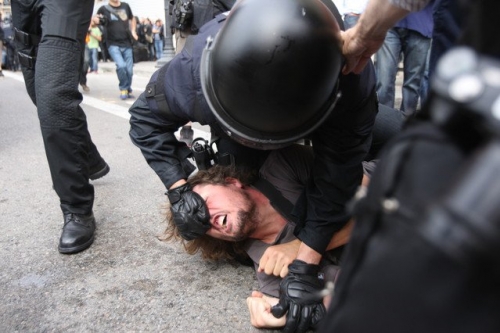 Police just cleared the protest camp on the Plaça …
Original article at: http://roarmag.org/2011/05/police-placa-catalunya-barcelona-violence-brutality/