Texas: Officials Ignoring Vote on Red Light Camera Ban
Despite vote, Houston, Texas hesitates at shutting down camera program worth $17.8 million in annual revenue.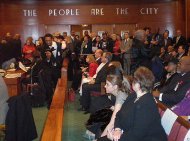 Officials in Houston, Texas are in the stage of denial regarding the public vote to ban the use of red light cameras. Despite losing by six percentage points, Mayor Annise D. Parker is not ready to shut down the program. The language approved by voters Tuesday as an amendment to the city charter is unambiguous.
"The city of Houston shall not use photographic traffic signal enforcement systems to civilly, criminally, or administratively enforce any state law or city ordinance against the owner or operator of a vehicle operated in violation of a traffic control signal, specified by Section 544.007(d) of the Texas Transportation Code, nor shall it collect any money from any recipient of a notice of violation issued, in whole or in part, in connection with the use of a photographic traffic signal enforcement system," Proposition 3 stated.
Houston is home to one of the largest automated ticketing programs in the country. Its seventy cameras generate about one-fifth of the total photo enforcement revenue for the entire state. In the last fiscal year, Houston cameras issued 236,812 tickets worth $17,760,900 — double the amount of the next largest camera program in Dallas. This regular stream of revenue is divided between the state, the city, and the vendor in charge of the program, American Traffic Solutions (ATS). The largest shareholder in ATS, with a 30 percent stake, is the investment banking firm Goldman Sachs.
To defend its contract, ATS and its subcontractors spent $1,937,000 between March 9 and October 23 on legal expenses in a failed attempt to block the vote, plus expenses for a television, newspaper and radio advertising blitz that failed to influence voters. In the Houston suburb of Baytown, the company spent an additional $205,000, according to campaign finance documents, for a grand total of $2,142,000. The amount is likely to grow after the ATS front groups file the required disclosures for the final week of the campaign….
Continue Reading>>> http://www.thenewspaper.com/news/33/3313.asp