Of course, what Israel means is, AMERICA must attack Iran, so Israel may have full run of the Middle East.
………………..
Antiwar.com
Urges World to 'Come to Its Senses,' Start Major War
Speaking today at the International Institute for Counter-Terrorism conference, former Mossad chief Danny Yatom urged the international community to come together and form a joint air force led by the United States to launch massive air strikes across Iran.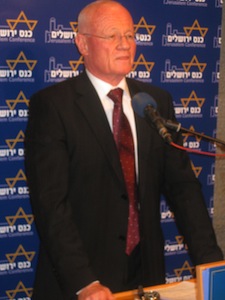 "Sanctions are not enough, I am hopeful that the world will come to its senses," Yatom noted. Coming to its senses, it seems, is a euphemism for starting a massive war that is bound to spread across virtually the entire Middle East.
Yatom served as head of Mossad from 1996 to 1998, and also served as a member of Israeli parliament under the Labor Party. He resigned from politics in 2008 citing his lack of confidence in the Olmert government…
Read full article at: http://news.antiwar.com/2010/09/12/former-mossad-chief-world-must-attack-iran-now/